---
MY RATING:

Newly Restored!
Check out its repair diary!
UPDATE 1/31/2007: My good friend Randel did a hell of a job restoring this unit, gutting it inside and out & I updated the zen-like image to celebrate! I purchased it two years ago in VERY POOR CONDITION, despite its seller's claims to be 100% ship-shape. Check out Randel's repair diary to see how rusted it was on the inside. Needed new bushings and J-wires, just for starters, and Randel had the keyboard support plate sandblasted and repainted. Plays like new now! Too bad you can't see all the work that he put into this thing unless you crack it open. Also got new wooden end caps from Synthwoods (image doesn't show them off as well as they should; they look great) on eBay for only $20; a very good deal.

This unit is only one of around 10,000 made (and then, who knows how many of those are still around), this monophonic imp of a keyboard is the cheapest possible way (short of resorting to a virtual synth) to get your hands on the legendary analog sound of Dave Smith's Sequential Circuits keyboards.

Some models came with the nice-looking wood panels, but mine did not originally (Synthwoods took care of this!). As the sound sample shows, it has much balls and chunk to offer. If you've heard all my other samples you know how much I like to wank with heavy duty SYNC and this latest sample is the biggest sync wank yet.
---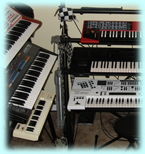 for a bigger pic of my studio!

Copyright © 2005 David C. Lovelace