---
MY RATING:

SOLD
An amazingly deep synth for one that's so affordable. This yellow-faced bastard can do anything. I'm not nuts about rackmount synths though, so I may sell it soon. No, I prefer big bulky things with actual keys which take up my whole house. I'm touched like that.

My little sound sample barely scrapes the surface of the Micro Q's power. There's a full sequence sound sample available at Vintage Synth Explorer!
---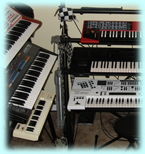 for a bigger pic of my studio!


Copyright © 2005 David C. Lovelace