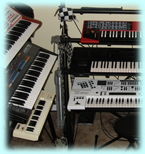 UPDATED 5/25/2008: CLICK HERE for a bigger pic of my studio!

Here's tons of fun for you synthy gear junkies out there (OK, that's not very many people, but believe me, they're out there). Click any thumbnail below to read my own personal comments & 5-star ratings of all my various keyboards, *and* hear MP3 sound samples for each! A few even have snazzy YouTube video demos I especially created. As I continue this sickness of adding to this blinking, lumbering heap of techno-boxes, I shall of course update this page as needed.

As of May '08, I'm rokking out much to the chagrin of my condo neighbors & still saving my dough for a house to move into, on some far-off, possibly fictional day. I've bought and sold so many synth, I've elected to make a separate page for them. Check that page out too since there are lots of MP3 sound samples and frivolous commentary archived there to enjoy! Why not just flush away your afternoon, lusting after everything I've gotten filthy with my fingers?