---
MY RATING:

SOLD
Look at this amazing box of monkey business! It's all about the arpeggiator in this lively chunk of knobs. I'm not really a big fan of automated arpeggiation (I prefer to actually play the notes!), but this is hands down the most fun I've ever had noodling with this functionality. As it arpeggiates it triggers each of its four oscillators in sequence, as opposed to all at once, making the tweakage a unique experience.

In my sound sample I've got it set to the widest possible range of notes, and I'm mainly goofing with basic cutoff, resonance, and sync stuff while playing a root chord on the Jupiter-8 underneath it all!
---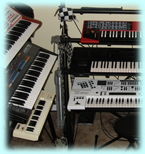 for a bigger pic of my studio!


Copyright � 2005 David C. Lovelace