---
MY RATING:

CHANCES OF SELLING: NONE
UPDATED 5/25/2008: After owning two Nord Lead 2X synths over the years, I've upgraded to the incredibly cool-looking Anniversary Edition. Serial #11 (out of only 299 made) arrived with a nice document of authenticity signed by Mr. Nordelius himself. Other than the black keys and new logo, it is otherwise identical to the 2X model that I have become fairly familiar with. It's great for gigging, being one of the most lightweight boards I own, and with 1,000 sounds there's no shortage of fun with this 20-voice monster.

The crazy-ass STONE modulation wheel and wooden pitch bender make for funky interface which takes some getting used to, but once done it's a very natural, organic feel. It offers almost all the features of the Access boards with 95% their quality of sound, at a fraction of the price in most cases. However, with no onboard effects (sound sample is moistened with a Quadraverb) it's ironically more suitable for studio work even though it's light as a feather and thus more desirable for the road. I may trade it one day for something with effects, but for now it's too fun to play with!
---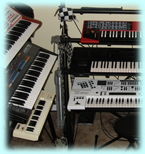 for a bigger pic of my studio!


Copyright (c) 2005-2008 David C. Lovelace