---
MY RATING:

SOLD
This incredible-sounding little hobbit of a keyboard is hands down one of the best-sounding boxes I've ever, ever owned (and this list is only a fraction!). It's a 24-voice powerhouse with the closest emulation to analog sound you can really get without using a "real" oscillator. 82 simultaneous effects, over 1,000 different sounds, a vocoder, I mean...this thing just doesn't quit. Plus it's small enough to take to a gig, that's for sure. It's 37 keys is a minor pain when it comes to performances but you get used to it. The sound sample is one of my favorite presets called "Moon Pad."

UPDATE 1/19/2006: Sold due to unfortunate budget constraints.

UPDATE 2/5/2006: Quickly replaced with a bigger-sized but similarly-programmed Virus kb (page coming soon).
---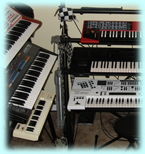 for a bigger pic of my studio!


Copyright � 2005 - 2006 David C. Lovelace