---
MY RATING:

SOLD
How dare you rate this beautiful new Moog anything but a firm five stars? This is the incredibly gorgeous black Anniversary edition (some are signed by Bob Moog himself; mine is not...I lose) with a crazy-ass blue backlit panel. This is a real wood, analog machine with honest-to-God 50-year-old technology (based on the original Minimoog), but with updates like a 3D modulation touchpad, LED screen, and (gasp!) patch storage. Still no onboard effects (sound sample has external processing added), it's monophonic (only one note can be played at a time!), and can only store 64 sounds. With such better technology available out there, it's almost as though they're making 'em backwards on purpose so you can feel like you've got your hands on old-world vintage crapola.

But even with all these shortcomings (oh yeah, the backlit panel hums like a bitch), this thing is nevertheless just total sex in a box for ass-captains like me. It's taught me a lot about synthesis in general since it's so well laid out, too.
---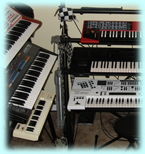 for a bigger pic of my studio!


Copyright � 2005 David C. Lovelace