---
MY RATING:

SOLD
What's this drum pad thingy doing in a keyboard player's attic?? It's true, I am a horrible excuse for a drummer, despite three years drumming in the surf-rock circuit a decade or so ago (OK, I wasn't anywhere near that circuit...it was just one band with some work chums). The sound sample will be an embarrassing testimony to my complete lack of talent. My brother Steve is the awesome drummer of the family...maybe I'll get him over sometime to record something on the SPD-20 worth listening to.

That's actually the main reason why I have this thing...it's great for visiting drummers to bang away on while I'm jamming out with a keyboard. As for my bro, he's got little kids at home, so I may end up selling it before I ever drag his ass out of the house.

Anyway, this thing's got over 700 sounds but it's a bitch to program sets. There's no numeric keypad so every time you want a new sound you've got to scroll, scroll, scroll through all 700 sounds! Once you've wasted your afternoon doing that however, you can get some impressive kits together.
---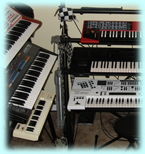 for a bigger pic of my studio!


Copyright © 2005 David C. Lovelace