1998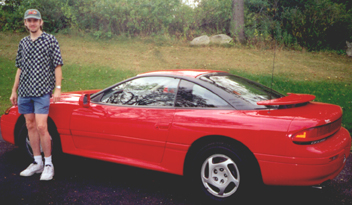 ...
A LIGHT AT THE END OF THE TUNNEL!
Screw that. I decided in January of 1998 that I was not going to get a haircut until 2000. I bought a Stealth. Mitsubishi started breathing down the fuzzy necks of Camaro-owners everywhere at the onset of the 90's, and I fell prey in the most stylin' way. Look at this car. You can cut the hair, but you can never remove the mullet from some people.
I had to once again wuss out by August (as shown), and cover up the already pronounced plumage with a South Park hat. However, you can see in the close-up the first inklings of the re-born mullet spreading its wings and getting ready to fly. Note also the pronounced chain underneath a silk shirt. Ah, yes, and a goatee has arrived. Nice white socks,too. Welcome back, mullet.
PREVIOUS STAGE! .....HOME..... NEXT STAGE!







copyright © 2000 David C. Lovelace