1995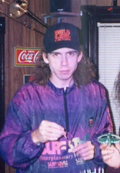 YEAR OF THE HAT.
Wuss. Covering up the puffy muffin with a "Pulp Fiction" hat for pretty much the entire year.
Still, check out that "Surf-Style" (the poor man's Oakley) pullover. All the cool people wore these things, but unfortunately, it was a few years before 1995. A classic blunder; just another nail in the coffin. Go to a Dream Theater show, drink your Guinness and drown your shame...
PREVIOUS STAGE! .....HOME..... NEXT STAGE!







copyright © 2000 David C. Lovelace