1994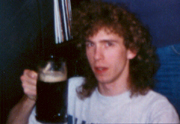 The choice of a New Generation of Mullets: GUINNESS.
Here's me throwing a $900 stag party for my soon-to-be-wed and later-to-be-divorced friend John. The frolet, when unwashed, took on magnificent frizziness, and many times my roommate commented that the TV reception was often better while I was in the room. However, I was already exhibiting dangerous signs of the mullet giving way to musician-hair bed-head.
PREVIOUS STAGE! .....HOME..... NEXT STAGE!







copyright © 2000 David C. Lovelace