1991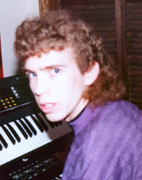 Now this is a proud mane we have developing here. The expression on my face should dictate an obvious discovery of frequent beer drinking with my fellow butt-surfer mulletheads.
I've got on the queerest purple shirt (with an unseen pocket in front), and there's one of my first keyboards set up behind me. No doubt I am learning how to play the solo to Rush's "The Trees," when interrupted for this picture.
PREVIOUS STAGE! .....HOME..... NEXT STAGE!







copyright © 2000 David C. Lovelace