Celebrating the reception of newlyweds
David & Lee-Ann Lovelace!
DANCE THE NIGHT AWAY WITH THE GHOSTS OF YOUR PAST!
Join Dave, Lee-Ann, and all of PLASTICA at a musical monster costume blowout bash! Finger food, two bars, and '80s music all night long! You don't want to miss this!
Players II in Plymouth (Terryville), CT
860-584-0397
Located at 23 Main St (Route 6), Plymouth, CT, very close to the Bristol border.
Click here for directions!
Saturday, October 17th
7PM - 2AM
Band plays from around 9PM - midnight
Tons of music, a completely decked out monstrous dance hall full of wild "Haunted Mansion" decorations, a killer light show which would bring Pink Floyd to their knees, costumes, snacks, two cash bars, plenty of parking, and the best time at a Halloween-themed reception you'll ever have, period.
Click the "Add to Cart" button below!
It will take you to our Paypal payment page. If you are purchasing more than one ticket, change the quantity amount in the window provided. You will receive a confirmation email from Dave, and your name (plus guest quantity) will appear on a guest list at the door. Admission will also available at the door, but your advance purchase will greatly help front the band expenses!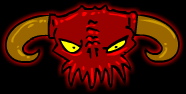 Copyright (c) 2009 David C. Lovelace