STRAW GOLEM
Drawn 1999, adapted 2002

FREQUENCY: Rare
NO. APPEARING: 1-8
ARMOR CLASS: 9
MOVE: 7"
HIT DICE: 20 hit points
% IN LAIR: nil
TREASURE TYPE: nil
NO. OF ATTACKS: 1
DAMAGE: 2-12
SPECIAL ATTACKS: nil
SPECIAL DEFENSES: See below
MAGIC RESISTANCE: See below
INTELLIGENCE: Non-
ALIGNMENT: N
SIZE: M
PSIONIC ABILITY: nil
LEVEL/XP: III / 800

Creation of Straw Golems is popular with Magic Users who need quick, "down and dirty" muscle to aid in their cause. They are makeable by any Magic-user of at least 9th level, cost only 1,000gp each to construct, and one can be thrown together overnight by a team of at least three (including the spellcaster). In the process, just the spells POLYMORPH OTHER and PLANT GROWTH are needed. The Golem will last for only three days, but will function as a warrior or servant otherwise during that time. EXTENSION I adds two days to this time; EXTENSION II adds five.

These relatively weak but temporarily effective Golems are immune to COLD, but FIRE and ELECTRICAL attacks cause double normal damage. It is affected normally by weapons of a +1 magical property or better, but blunt attacks of any sort cause only half damage.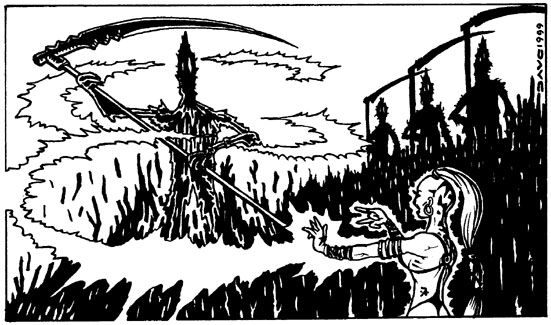 *This is a fan site. Advanced D&D is a trademark of TSR.
This site is not affiliated with TSR. Otherwise it'd all be 3E, wouldn't it?
All artwork Copyright ©2002 David C. Lovelace